On Sunday 30 August 2020, on the occasion of the International Day for the Victims of Enforced Disappearance, Jambonews met with Claudine Mukashema, a Belgian of Rwandan origin who for more than 22 years has been wondering about the fate of her father who disappeared in Rwanda.
In a video sent to the editorial staff of Jambonews, Claudine Mukashema asks for answers about her father's fate. "I know that I am not the only one whose loved ones have been a victim of enforced disappearance in Rwanda (…) I see others with the same grief as me, I would like to join them in demanding the RPF-Inkotanyi regime to give us answers".
Claudine Mukashema is the youngest of a large family from the commune of Gatonde, in the former prefecture of Ruhengeri.
Her father, Onesphore Byampiliye and her mother Immaculée Twagiramariya were far-sighted businessmen, who prospered in Ruhengeri prefecture.
After a childhood that Claudine describes as "happy and carefree", the family's life changed in the mid-1980s after her father ran for parliament. "Colonel Aloys Nsekarije accused my family of having links with Alexis Kanyarengwe and political persecutions began. In October 1990 after the RPF-Inkotanyi presided over by the same Kanyarengwe started a war against Rwanda from Uganda, the persecutions reached a new dimension, even leading to the imprisonment of my father who was accused of being "icyitso" [an RPF accomplice].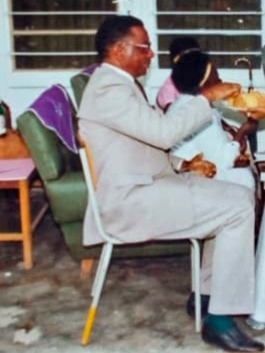 From October 1990 to April 1994, Claudine and her family went through what she describes as "a Way of the Cross", provoked by the supporters of the regime at the time and which culminated in the murder by machetes of her brother, Prosper Byampiliye on 7 April 1994 in the very first hours of the massacres.
A few weeks later, as RPF troops gradually took over the whole country, Claudine's family, like millions of other Rwandans, went in exile in former Zaire.
In 1996, after the start of attacks on Rwandan refugee camps in ex-Zaire and faced with the climate of insecurity affecting Rwandophones in the region, Claudine's family decided to return to Rwanda.
Very quickly, persecution under the new regime began and culminated in June 1998 with the disappearance of her father and the murder of her mother.
On Sunday 28 June 1998, Claudine tells us "my father was waiting for a taxi at the roadside when he was stopped by 'Oscar', the Mayor of Nyamyumba, who took him away. My mother went to the Rubavu commune to warn about my father's disappearance. When she arrived there, she was put in solitary confinement and released the same evening before being taken back to our home by an RPF soldier. The next morning she was murdered in our house by other RPF soldiers who lived at the tea factory in Pfunda. The neighbors hastily buried my mother the same day. When I arrived at our house the next day, I found mostly blood, which for me showed that she was stabbed to death, this was later confirmed to me by the people who had buried her. I didn't know what to do: flee Rwanda or go to Kabgabyi as my parents had planned. My mother had just been killed, I had no news of the whereabouts of my father, I heard that he might have been killed too. »
Today, 22 years later, Claudine testifies for the memory of her parents, but also to break the silence around these senseless disappearances that continue to take place in Rwanda today. "My father disappeared on June 28, 1998, my mother was killed the next day and today 22 years later, as it was the case for my parents, we continue to witness disappearances or assassinations that are committed with total impunity in Rwanda. It is for their memory, but also to break this silence and this impunity that makes what happened to my parents continue to happen again that I wanted to testify today. »
Ruhumuza Mbonyumutwa
Jambonews.net
Commentaires
commentaires