Tuesday February 16, 2021, at 1 p.m. Hundreds of Rwandans spontaneously demonstrated in several European cities to demand the release of Yvonne Idamange. They also demanded the end of the violation of fundamental rights of Rwandan citizens, whether living in the country or in exile.
Demonstrations have taken place simultaneously in Brussels, Paris, The Hague, Geneva, Lyon on Tuesday, others took place in Paris and Geneva on Saturday and other actions are planned in the coming days in Montreal, Stockholm among other cities.
This mobilization of the Rwandan community in exile follows the arrest of Yvonne Iryamugwiza Idamange for a video that she published this Monday, February 15, 2021 on her YouTube channel and which has already been viewed 150,000 times in less than one week.
In this video, Yvonne Idamange expresses that she is fed up with seeing young talented Rwandans falling victim to imprisonment, enforced disappearances or getting killed "on a daily basis". She cites among other names, that of Kizito Mihigo, assassinated on February 17, 2020; that of journalist Cyuma Hassan Dieudonné, imprisoned since April 2020 for "non-compliance with lockdown measures" ; and that of the young poet Mussa Innocent Bahati, missing since February 7, 2021.
In her message, this mother of four called on Rwandans to go to the Presidency with a bible to "demand democracy in Rwanda" and an end to the serious human rights abuses that continue to be regularly committed in the country.
In a very strong language against the power in place in Rwanda, she went so far as to characterize General Kagame as a "corpse", echoing a rumor that has persisted for several months in certain Rwandan circles according to which Paul Kagame is dead, the activist spoke of a pressing "need for change" in the governance of the country and called repeatedly in her video for a "peaceful revolution", which she called on "Rwandans in exile" to join stating "if you stand idly by, God will call you to account ".

"You're going to shut up, if you don't shut up, they'll kill you, people will talk about your death one week and then it will be over"
In the same video, Yvonne Idamange explains that a few days earlier she received a visit from Secretary of State Edouard Bamporiki, who allegedly offered her, on behalf of the Rwandan state, to buy her silence. Madame Idamange says she has in her possession the recording of this conversation in which the Minister asks her what the Rwandan state could offer her in exchange for her silence. Yvonne Idamange opposed and refused the offer made to her. "I replied that if it was necessary, I was ready to die for the children of Rwanda because I cannot accept to sell myself and keep silent on the expense of the blood of Rwandans (…) He told me: "You will shut up. ,If you don't, they will kill you. Then people will talk about your death for one week and it will be over ".
On twitter, Secretary of State Edouard Bamporiki later confirmed this interview in these terms: "It was my responsibility as lawyer & family friend to remind her of
Crimes and punishment as provided for in the Laws. That is what I proudly did.
Otherwise, the time I spent in the school of law would have been in vain. We know each other since 2003."
Just hours after the publication of this video, Rwandan police announced the arrest of Yvonne Idamange "on charges of serious crimes including inciting public disorder, resisting lawful arrest and aggravated assault against a law enforcement officer.", The police is accusing her of injuring one of the police officers who came to arrest her by hitting him on the head with a bottle.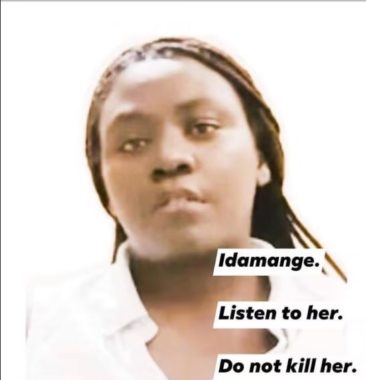 As soon as her arrest was announced, Rwandan social networks ignited, Rwandans by the thousands disseminating her photo or putting it as their profile photo, often with the same message "do not kill her, listen to her". The next day, several hundred people gathered in Brussels, Paris, Geneva, The Hague and Lyon to demand the immediate release of the young woman as well as respect for human rights in Rwanda.
In Brussels, around 200 demonstrators according to the organizers, 150 according to the police, gathered in front of the Rwandan embassy, ​​most of them holding a Bible in one hand (at the request of Idamange) and a photo of Yvonne Idamange in the other.
In their slogans, the demonstrators have repeatedly stated that they were fed up with seeing Rwandans's rights being continuously violated without any national or international reaction. "Turarambiwe, Turarambiwe, Turarambiwe!" (we've had enough!) chanted the demonstrators who repeated over and over again the names of young Rwandans murdered by the regime or gone missing, like Mussa Innocent Bahati, the latest name to date on the too long list of missing persons in Rwanda.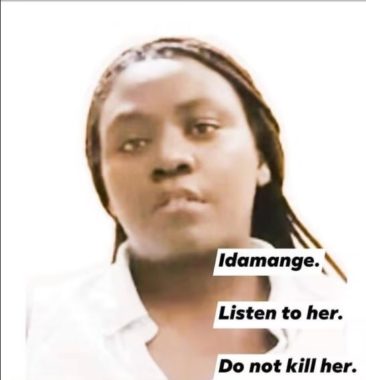 On other occasions, protesters chanted the word "revolution" echoing Idamange's call for a "peaceful revolution" in Rwanda. They demanded the release of Yvonne Idamange as well as of the other political prisoners in Rwanda. On the eve of the commemoration of the assassination of Kizito Mihigo, the demonstrators closed the event by going into meditation, singing a verse of the song Igisobanuro cy'urupfu, the same song that triggered the persecution and the suffering of the Christian artist.
"I stood up for those in Rwanda who cannot do it"
Ganishya Runyinya, one of the participants to the demonstration in Brussels, explains that she wanted to demonstrate because she was moved by the sight of "a single mother of four who seems to have everything, who seems to be part of the privileged class in Rwanda, stand up and set aside her privilege to speak on behalf of all Rwandans, being aware of the risks she was taking."
The fact that Yvonne Idamange has shown herself ready to sacrifice everything including her life just to speak her mind, adds Ganishya Runyinya, "shows that Rwandans have reached a point of non return. Her action of refusing to live in comfort while keeping her eyes closed on the distress of the Rwandan population reminds me of the sentence uttered by Kizito Mihigo in one of the last videos he recorded before his assassination, in which he explains that he prefers to live badly, to lead a difficult life, but a life of internal freedom, to doing as he is told while, which really means living in chains, without being himself. "
It was this "self-sacrifice" that Idamange made for the Rwandans, Ganishya continues, "that kept me from standing idly by. I know very well that in Rwanda nobody was going to go to the Présidence as she had requested, because of the climate of fear that is prevalent there, but I have no reason to be afraid. Where I live, I have the opportunity to do something that those in Rwanda cannot because of fear for their lives. I stood up for those who couldn't. "
In Paris, demonstrators gathered around noon at Parc de Monceau near the Rwandan embassy. At around 1 p.m., a delegation of four approached to drop their message off in the embassy's mailbox. The others had to stay behind because of the containment measures imposed in France.
Marie Jeanne Rutayisire, one of the demonstrators, explains that she joined the action "to challenge the injustices that regularly occur in Rwanda, and to support Idamange who speaks for the rights of all Rwandans. "
"Idamange's courage moved and inspired me"
In Geneva, people from different cantons met at the Place de la Nation in front of the United Nations Palace at 1 p.m. with photos of Idamange, photos of other prisoners, as well as of those people who are suffering from forced disappearance. A delegation then proceeded to the Rwandan Embassy before returning again to Place des Nations.
Aimée Bamukunde, whose photo of her holding up a sign bearing the image of Idamange in front of the Palais des Nations quickly went viral, explains that she joined the movement because "as a Rwandan", she feels concerned by what is happening inside the country and by all the problems that Idamange has mentioned. "You might not agree with everything she said, but her courage moved and inspired me even more. Idamange could have been my big sister, my cousin, my neighbor. It is this strength of a mother of four children who puts her own life on the line to speak for all her people, that pushed me to make myself available for her . This is what I look for and what inspires me, these women who dare to say out loud what people think but dare not say. "
Beyond Idamange's courage, the form and content of the young woman's speech seem to have deeply touched Aimée Bamukunde. "she was methodical, organized, and spoke in a clear language. She was talking about the problems that Rwandans are experiencing. Although she led a comfortable life herself, she spoke for those most in need. She spoke for all Rwandans, not only those inside but also those outside the country and that is what struck me.
The young woman explains that she was seduced by the "inclusive" nature of Yvonne Idamange's speech: "Personally, my cause is the Rwandan children in refugee camps outside the country that we all tend to forget. When she speaks to "every Rwandan wherever he is", no child of Rwanda is excluded. It is her inclusive speech that won me over. People having seen my photo circulating say "thank you for doing this". I would rather want to say thank you to her, thank you to all those moms who make things change. She is a heroine."
«I recognized myself in her»
In The Hague, protesters gathered at Plein, in front of the Dutch parliament, holding up photos of Idamange.
Gloria Uwishema, one of the demonstrators, explains that she mobilized because on the one hand she was outraged to see a Rwandan persecuted for her freedom of expression "there was no reason to persecute her. Her case shows precisely that there is a tremendous lack of space for free expression in Rwanda". On the other hand, Gloria Uwishema explains that she mobilized as a woman to support a woman of her generation, having children like her and "who has managed to talk about the problems of the Rwandans. Idamange cannot imagine the Rwanda of tomorrow, for herself but especially for her children as she is worried about the future and the path our country is taking. I recognized myself a lot in her. "
In the wake of the demonstration, Prosper Iraguha-Shima, a young Rwandan also living in the Netherlands and who organized the rally, did not stop at this rally and has since sent letters signed by nearly a hundred people to the various partner countries of Rwanda. "We have already written to various embassies located in Rwanda, to the European Mission in Kigali, to the Embassy of the United States in Kigali, ​​to the Embassy of the Kingdom of the Netherlands, calling upon them to urge the Rwandan authorities to respect the fundamental rights of Rwandans as well as Madame Idamange's right to freedom of expression. "
"We are fed up, we want to support the Rwandans who suffer from this system which crushes them from all directions"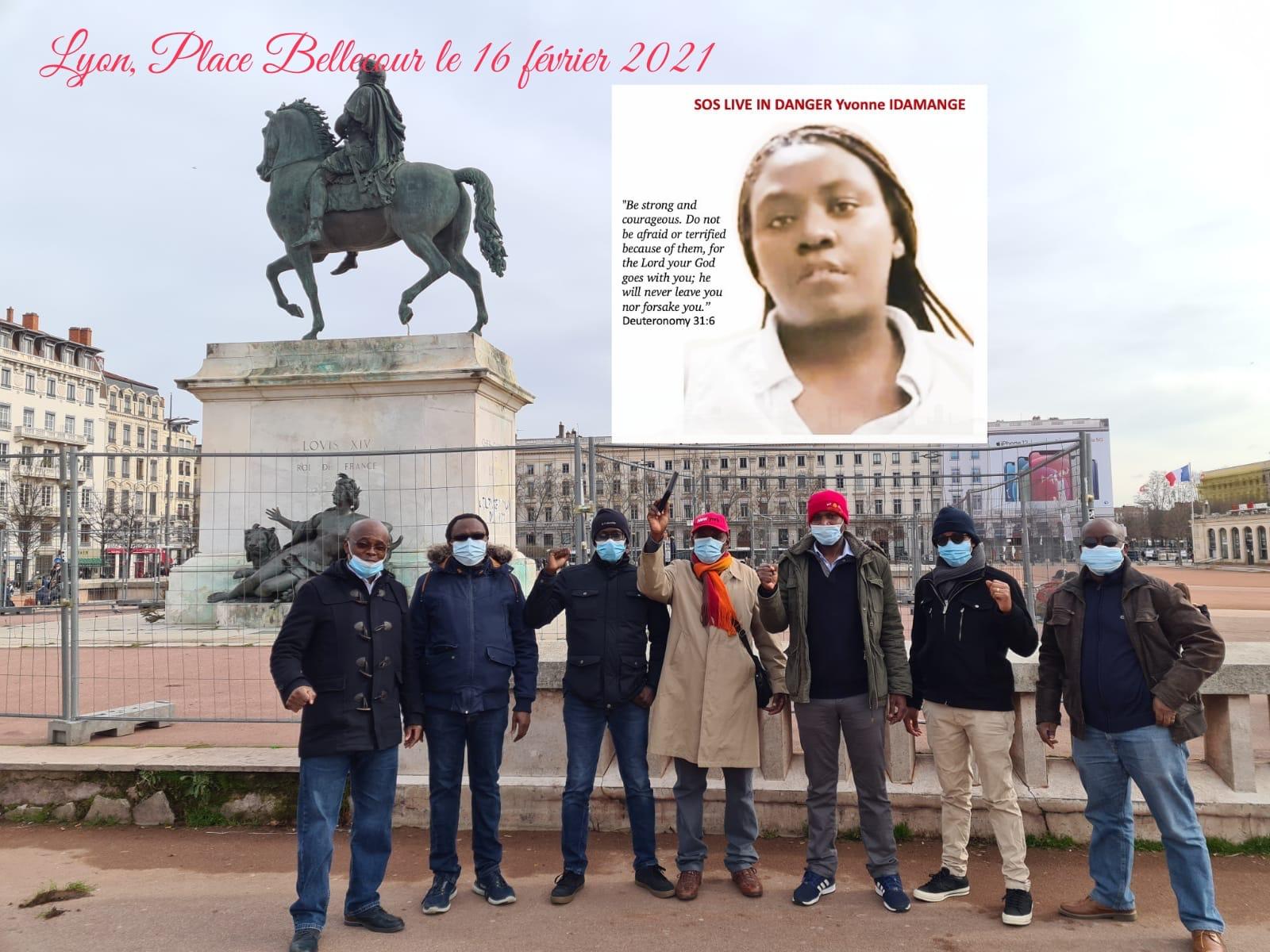 In Lyon, the demonstrators gathered on Place Bellecour at 1 pm sharp to "denounce the violation of human rights and to support democracy in Rwanda". Due to the short delay, some having been warned the same morning, the demonstrators found themselves without Idamange posters but rather with a bible as she had requested.
Léon Ruhungira, who was among those who mobilized, explains that he did so to "support freedom of speech in Rwanda and demonstrate against the injustice that strikes the Rwandans. We are fed up, we want to support the Rwandans who, in the country, are fed up and dare to talk. We want to support the Rwandans who suffer from this system which crushes them in all directions. It is time for that to change."
" Speaking out is not a crime"
One week after Idamange's arrest, the emotions remain high within the Rwandan community and the mobilization around her case shows no sign of slowing down.
In Rwandan internet forums, despite the particularly busy news of recent days, Yvonne Idamange continues to be the main topic of discussion and several YouTube channels and programs continue to publish about her daily.
The mobilization does not weaken and new demonstrations happened this weekend in Paris and Geneva and others in Stockholm and even in Canada are announced in the coming days. A large "virtual demonstration" is also announced for February 28.
Diane Gasana, a young Rwandan living in Switzerland and who was at the Tuesday and Saturday's demonstration in Geneva, explains that she wants to keep mobilized because "it's going too far. We were moved by the arrest of a single mother. All she did is denounce the failings of the system. Speaking out is not a crime, to us. "
Alongside these gestures of support, a fundraising campaign was launched to help Yvonne Idamange with her legal costs and support her four children. In just one week, the prize pool has already reached more than $ 20,000 and donations continue to pour in.
https://www.gofundme.com/f/support-for-idamange
Ruhumuza Mbonyumutwa
Jambonews.net
Commentaires
commentaires