Born on 10 July 1989 in Rwanda, Venant Abayisenga is or would have been 31 years old on this 10 July 2020.
He was barely a year old when war broke out in Rwanda on 1 October 1990, and he was a child throughout the years when the country was on turmoil.
In 1995, at only 6 years old, he witnessed thebrutal murder of his mother by RPA soldiers in Nyabirasi in north-western Rwanda. His little brother, barely a year and four months old, was also murdered while on his mother's back.
In 2012, at the age of 23, he decided to get involved in politics, joining a new generation of Rwandans who wish to take their destiny into their own hands by having a say in the reconstruction of the country.
In June 2013, at the age of 24, and only a few months after his debut in politics, he became the victim of political persecution when he was arbitrarily imprisoned for aperiod of one year and a half.
He was freed in December 2014 and, far from being broken by his stay in detention, he decided to continue his political struggle for a Rwanda that respects the rights of every citizen.
In September 2017, only a few weeks after the presidential elections which were won by General Kagame with a Stalinist score of 99% of the votes, he fell victim to the "Post-Election Political Crackdown" during which many opponents were imprisoned.
Under the shadow of the high-profile imprisonment of Diane Rwigara and her family, he began his second stay in prison.
At 28 years of age, and after havinglived through harassment and imprisonment, heendured torture which is used by the RPF as a repressive tool to stifledissenting voices.Soon after he was arrested, he was transferred to a location referred to as "Gacinya's" in Gikondo, which is infamous for thedire fate which awaits those detained there.
He recounted what happened to him next: "I had big problems there, I was beaten. They wanted me to tell them about an armed group we had supposedly created. (…) They didn't believe me and I stayed there, and they continued to beat me up, they faked my execution. At one point I had a bleeding problem, that's when they started beating me less. They would put me under the table, one hitting me from behind on the soles of my feet, the other with a truncheon on my head (…) They wanted to torture those of us who had been arrested last in an exemplary way… I stayed in mycell, arms bound, alone in that gloomy place from where you come out to be beaten, and you feel there is no end. (…) Around the 17th [September 2017] the beating started again. When I started bleeding again, they took a break but kept telling me they were going to kill me. They came with a plastic bag, put it in front of me and asked me to tell them who I had been with in the armed group […] On September 23, they came back and beat me again. They wanted to interrogate me but I told them I wanted a lawyer. They told me, "You will never leave this place, nobody knows you are here, we can kill you and there will be no prosecution against us."I already knew that a lot of people are actually killed under this regime without any follow-up. (…) For example, they put a lot of stones in the maize we ate, just like the porridge we received, instead of sugar they put sand in it. But I put up with these bad living conditions and I am still alive. And I hope to live for a long time to come. (…) They told me that they had killed my companions and that they were going to do the same with me. And indeed they didcommit killingsat "Gacinya's". There would betimes when we would hear someone die, and then we would see them come to clean up. When you see that, you tell yourself that your life is over. (…) Afterwards I was transferred to Mageragere prison and the torture continued, but on a different level. The torture in that prison has reached such a level of organisation that one wonders if it is not planned by the state."
On 23 January 2020, after two and a half yearsof detention, he was acquitted of all charges against him and immediately released, along with Theophile Ntirutwa, his co-detainee and party comrade.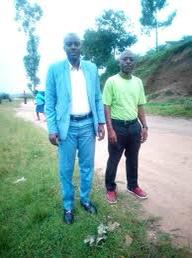 On 6 June 2020, less than a month after Theophile Ntirutwa survived an assassination attempt, Venant became the target of a forced disappearance, another tool in the RPF's repressive arsenal.
At only 30 years old, having left his home for a brief moment to buy credit for his phone, he did not return.
He has not been seen since.
More than a month has passed.
Ruhumuza Mbonyumutwa
Jambonews.net 
Commentaires
commentaires