On April 6, 1994, the plane carrying President Habyarimana was shot down over Kigali. On the morning of April 7, 1994, Pauline Kayitesi, who was in Poland, received a call from her father who was particularly worried and anxious. "There is chaos in the country, the President's plane has just been shut down. It is not going well, in Kigali we are hearing shootings, we are hearing bombings, we don't know what to do", he exclaims. Before hanging up, he says the following words to his daughter: " Be brave, be strong, you will know what will happen." These would be the last words that Pauline heard from her father. Today, 25 years later, Pauline, who says she "always wanted to talk about her story but never found a suitable platform to do so", looks back on the tragedy that took the lives of her family.
On the evening of April 7, a few hours after speaking to her father, Pauline redialed her family home number. "The phone rang non-stop, non-stop, non-stop but no one answered." The young woman then thought that her family may have fled, but she kept trying to call back until communications in Rwanda were cut off.
Three months passed since that date and Pauline had no news of her parents and siblings. By then she spent most of her time looking at the images broadcasted by the media about Rwandans fleeing their country. "In the morning, at noon and in the evening, I looked at these images, with the hope of recognizing someone from my family among all the crowds that were being shown, but I didn't recognize anyone", Pauline recalls.
It was at the beginning of July 1994, three months later, that the young woman received a letter from the janitor which contained information regarding her family. She recognized her brother's writing in the letter, and read it with eagerness. In the middle of the letter, a sentence hypnotized her: "I feel bad that I couldn't go back to Kigali to bury our parents' bodies. "At that moment, Pauline recalls; "it was clear that my parents had passed away."
She fainted from the shock of this news and woke up some time later in a friend's room. After coming to her senses and gathering her courage, she continued reading the letter and finally understood that, in addition to her parents being murdered, "all those who were at home had been killed." The family members who were still alive only survived "because they were not at home."
Later on, Pauline managed to talk to her brother who had been able to reach Togo. It is the latter who told her the macabre details of the tragedy that struck her family. On the morning of April 7th, her parents were at their home in Remera. "They were at home and they all heard a noise at the gate, a terrible noise. The servant went out to see what was happening, and found that there were RPF agents. The agents came into the house and went into our living room. "
The soldiers carried "a list of MRND supporters " in their hands. Her father's name was written on it. Her father rejected this allegation by explaining that he was the director of "Kinderdorf", a German NGO that works with orphaned children. Because of his status, the father explained,"he was prohibited from being a supporter of any political party."
His explanations would not matter to the soldiers, who immediately asked the father to kill his wife and children under threat. When he refused, "they [the soldiers] killed his children before his eyes (…) then they killed my mother", Pauline recalls. The soldiers then asked him for the keys to the car, asking him to serve as their driver. As he staggered on his feet, "he was murdered in front of the house, they took the car and they left", explains Pauline.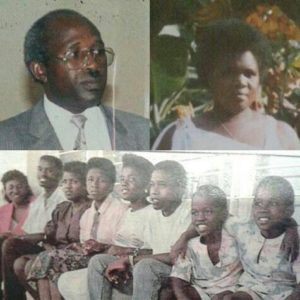 It was the servant, who had retired before the bloodbath took place, who was able to testify to this tragedy. That day, in addition to her father and mother, Pauline lost three brothers, her little sister, and two cousins who were all inside the house on the day of the incident.
"This is my story", insists Pauline. "My family was murdered on April 7, my family was murdered at the very beginning of this war, what I would like to make clear from that is that when we talk about those who were killed, when we talk about the genocide against the Tutsis, I would also like people to recognize that there were Hutus killed during this period by the RPF-Inkotanyi". Before adding that her family "was innocent".
Today, living in exile in Belgium, Pauline did not forget her native country and pleads for Rwandans to tell each other the truth about their history. Besides talking about the truth regarding history, Pauline wants to look to the future. "I would like every Rwandan to be able to contribute to the reconstruction of the country, not to remain a spectator but to ask themselves what they can do so that our country can find peace, so that injustice disappears, so that justice can take root".
For Pauline, even if her generation may not experience the situation of peace and justice to which she aspires, the struggle deserves to be fought "so that future generations can know this future, can have a country that recognizes them as Rwandans, that accepts them, that welcomes them, that gathers Rwandans together. »
Full testimony
Commentaires
commentaires