This Thursday 31 December 2020 marks 4 months to the day since Carine Kanimba, Paul Rusesabagina's youngest daughter learned of her father's detention in Rwanda "I was sleeping in Washington at my sister's side and around 3-4am we were woken up during the night by various phone calls. We were sent photos of my father paraded and handcuffed in front of the RIB [Rwandan Investigation Bureau]. It was shocking, it was scary, I couldn't believe it, I thought I was going to wake up and everything would be normal and he would be in Texas tending to his garden. »
At a time when many citizens are still thinking about their 2021 resolutions, Carine Kanimba has only one in mind: "bringing Paul Rusesabagina back home." In this article, Jambonews, looks back at the journey of this young woman who, for the past four months, has put her life on hold for the salvation of the hero of Hotel Rwanda.
Carine Kanimba was born in Kigali in May 1993, in a country that was then in the grip of a war unleashed on 1 October 1990 by the RPF-Inkotanyi, a rebellion led by Tutsi refugees living in Uganda.
Carine evolved from an atmosphere characterised by fear and anxiety, even in the first months of her life. That was due to the context of war, but also to the fact that Fedens and Thomas Kanimba, her parents, who were both of Tutsi ethnicity, feared for their lives. "At the beginning of the film Hotel Rwanda, one scene illustrates this climate of fear that my parents faced. My father and my mother go to the Hotel des Diplomates to see Paul Rusesabagina. It must have been April 5. They had heard reports that, if a signal was triggered, Tutsis living inside Rwanda could be exterminated. They wanted to flee the country, together with Taciana Rusesabagina, my biological father's sister." Carine tells us.
Paul Rusesabagina reassures them as best he can, "the United Nations are there, the international press is watching, peace has been signed." He invites them to come back the next day to discuss the matter at ease.
Only a few hours after this exchange, on 6 April 1994, Thomas Kanimba's fears proved to be well-founded when the plane carrying Juvenal Habyarimana, the Rwandan president at the time, was shot down over Kigali by the RPF-Inkotanyi[1], which launched a general offensive on Rwanda in the aftermath, and the war resumed immediately.
In the areas controlled by government forces at the time, roadblocks were set up and a hunt for anyone suspected of being – wrongly or rightly – an accomplice of RPF rebels began. Tutsis living inside Rwanda who were assimilated to the invaders without any distinction of gender or age are immediately hunted down. This is the beginning of the genocide against the Tutsis, during which it is estimated that nearly 75% of the Tutsis living inside Rwanda will be exterminated, most often with traditional weapons.
Around 9 April 1994, Thomas Kanimba decided to flee Kigali towards Butare with his wife and two children, Carine and Anaïse, the eldest, who was two years old at the time. Arriving in Gahanga in the company of other refugees, they are intercepted by soldiers who pile up the crowd in the middle of the road "they started shooting at us. I was too young to realise what was happening, it was my aunt who was there who told us the story. A bullet hit my father, who died on the spot."
Carine, Anaïse, their mother, and their aunt managed to extricate themselves from the bodies and returned to their home. As a result of the house searches that were under way, in search of the "ibyitso" [a term used at the time to designate the alleged RPF accomplices], their aunt went to hide in the neighbours' latrines. "From her hiding place, my aunt saw Interahamwe militiamen coming into our house and taking my mother away. Since then we have never had any news about her fate. As my aunt did not see Anaïse and I being taken away at the same time as my mother, she thought there was a chance that we might still be alive and was able to find us in the house. She managed to get the message to Paul and Taciana and that's how they found out that we were still alive."
As soon as Paul and Taciana Rusesabagina learn the news, they start a whole series of steps to find the two children and send several people to look for them, including Red Cross teams. The teams always come back empty-handed.
Reunion
It was only several weeks later that Paul and Taciana Rusesabagina finally learned that the two children had been taken to a refugee camp and set out in their turn to look for them. "The scene of the reunion is illustrated in the film Hotel Rwanda, which is on this point true to reality, except that we were much younger than we appear in the film. I was one year old and Anaïse was two, while the two young girls who play our roles in the film are a little older." »
The couple immediately adopts the two children, who complete a large family now composed of 6 children. The family lived in Rwanda until 1996, when Paul Rusesabagina was the victim of an assassination attempt. "A soldier came to our house, asking after my father. As soon as he entered, he pulled out a gun and was narrowly neutralized by the guard. At that moment, my family made the decision to flee Rwanda, first to Uganda and then to Belgium."
In 1998, Philippe Gourevitch, an American author and journalist, published the book "We wish to inform you that tomorrow we will be killed with our family" based on hundreds of interviews with genocide victims and different actors. The book quickly becomes a best-seller and receives numerous awards. Among the stories told in the book, that of an ordinary man who managed to save hundreds of people from certain death, attracted the public's attention to the point that a year after the book's release, an HBO director contacted Paul Rusesabagina to make a film, a proposal that the latter refused.
It was in 1999, as she was about to turn 7, that Carine learned about her family history: "My mother took us into the bedroom, she had several photos in her hands which she showed us, and told us that they were the photos of our parents. Anaïse started to cry and I also began to cry out of mimicry because at 7 years old, I didn't realise what she was telling us. At that age, these are truths that we don't manage to understand, I cried because my sister was crying."
It was also during this evening that their mother explained to them the reasons why they were not called Rusesabagina "in order to keep the memory of our parents they had decided not to change our names so that we would never forget where we came from. Our parents were very important people to them, it was a way of engraving their memory in marble." »
From then on, despite her young age, Carine spent a lot of time approaching different people in her family or friends, asking them questions about her parents "I wanted to know who I was, who my parents were, what their life had been like. For some it was a very sensitive subject. I wanted to understand why my parents had been killed, I wanted to understand the origin of this hatred that drives humans to kill. I didn't understand and even today I still don't understand."
Hotel Rwanda
In 2001, Paul Rusesabagina met Terry George, the future production manager of Hotel Rwanda, who introduced him to his project. Paul Rusesabagina is immediately seduced and embarks in the project. "In 2003, with a view to making the film, Don Cheadle spent two weeks with us at home. He also made several trips with our family. He had to learn about Daddy's behaviour, so he was with us 24 hours a day. For me it was magical to spend so much time with a star of this stature. The first night he observed Dad and from the second night on he started copying his gestures, learning to be him for the shoot. When the film came out, there were quite a few of my dad's gestures that we recognised, it was fun to watch. »
In 2004, upon its release, the film Hotel Rwanda was a worldwide success and was nominated for three Oscars. Carine was 11 years old at the time "I remember attending a lot of previews when I was on holiday, I spent my time running around the theatres or hiding under tables. I was a little girl who didn't understand the importance of these events. I remember, for example, briefly disappearing at the Berlin Film Festival. »
In Rwanda, the film is hailed by the new government in power, to the point that a screening is organised at the National Stadium, in front of an audience of 10,000 people, as well as in various other places.
Aimable Karasira, at the time a university professor in Butare recalls "I remember when the film was released, it was screened at the University of Butare, we all applauded and liked the film." General Kagame will also attend the premiere of the film in person, which he seems to enjoy alongside Terry Georges, the director.
"Silence is complicity"
At the first screening in Kigali in April 2005, in front of a five-star audience, one name was missing: Paul Rusesabagina. "He said he didn't feel safe and was warned not to come to Kigali," Terry Georges told the New York Times. And for good reason, Paul Rusesabagina had shown his will not to remain silent in the face of the crimes and injustices of the new regime. "Silence is complicity, I didn't keep silent before 1994. During the genocide, I didn't keep silent, I used my words to help the people in the Mille collines where I had 1268 people and we all got out alive, so today I won't keep silent." He explains in one of his many interviews.
Beyond the film, it is the personality and courage of Paul Rusesabagina that are praised worldwide to the point that in 2005, he was awarded the Presidential Medal of Freedom by George Bush, the highest civilian distinction in the United States, as well as many other honors.
A new life began for Paul Rusesabagina, who sold his taxi company and began a career as a lecturer all over the world. In the course of his many lectures, he returned to the film Hotel Rwanda, to the genocide of the Tutsis, and also systematically evoked the mass crimes committed by the new regime "until today people are arrested and killed immediately before being taken to any prison. Rwanda has changed the dancers but has never changed the music. Before music was killing, today music is still killing, but the killers have changed from one side to the other." He says in the documentary "The Man Behind The story of Hotel Rwanda", one of the many documentaries dedicated to him.
The target
As a result of these increasingly successful conferences around the world, Paul Rusesebagina quickly became the target of the regime in Rwanda. Insults, defamations, and threats follow one after the other at breakneck speed. At several of his lectures, supporters of the regime try to sow chaos and accuse the man whose personal story, as told by Hollywood, bears witness to the horror of the genocide, of being a denier with a "genocidal ideology."
On December 31, 2009, as the family prepared to celebrate the New Year, Carine became aware for the first time of the extent of the danger her father was in "when we came home, we found the house upside down, we had been burglarized. The criminals had obviously only taken documents in Kinyarwanda and all the documents related to the film and had left all the valuables behind. For my father there was no doubt that it was the work of Kagame's men who had been after him since 2005. »
Apart from this episode, Carine is relatively unaffected by the threats and attacks that her father has suffered, and for good reason: since 2007, she, Anaïse and Trésor, the couple's three youngest children, have been studying at boarding school in the United States "the idea was on the one hand to allow us to learn English, and on the other hand to give us stability because our parents were now travelling a lot. We went back to Belgium about every three to four months for the holidays" Carine recalls.
It was during her holidays in Belgium, in contact with Paul Rusesabagina, that Carine kept in touch with Rwandan culture and learned Kinyarwanda. "He never wanted to speak to me in French, as soon as I told him about my day, he always answered 'ntacyo numvise [I didn't understand anything] to force me to repeat myself in Kinyarwanda. It is thanks to his rigour that today I can manage in Kinyarwanda even though my Kinyarwanda is far from perfect. »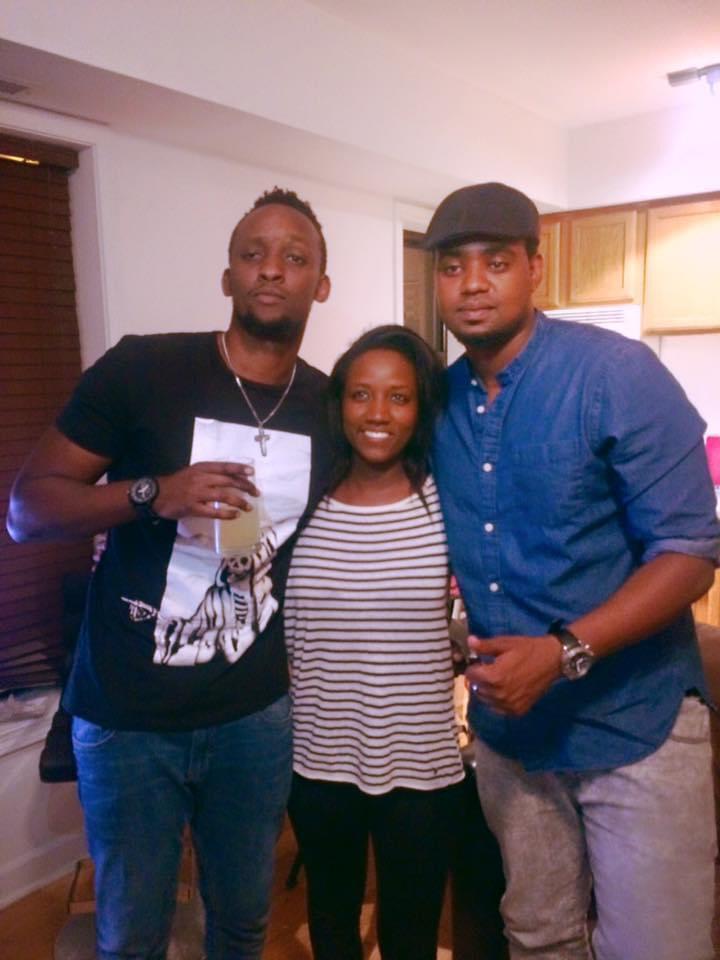 The Rwandan issue
It is from 2012, during her studies at Northwestern University and in contact with the large Rwandan community in Chicago, that Carine began to grasp the sensitivity of the Rwandan issue.
In Chicago, Carine rubbed shoulders with many Rwandans, including several music stars such as Kitoko, Meddy, The Ben. "Rwandans spent a lot of time together. We could discuss many subjects, but as soon as it got to Rwandan politics, people became uncomfortable. I was lucky enough to meet people who came directly from Rwanda and I asked a lot of questions about the political climate in Rwanda, to get the point of view of someone who lived there. Each time I got the same answer: "You are going put us in troubles!". I knew that people were afraid to talk about Rwandan politics inside the country, but I didn't understand how people in the United States could be so afraid to say what they think about Rwandan politics.
From 2016 to 2018, after graduating in political science from Northwestern University in Chicago, Carine Kanimba studied law and economics at three prestigious European universities: the University of Bologna in Italy, the University of Rotterdam in the Netherlands and the University of Aix-en-Provence in France.
At the end of her academic career, she returned to the United States to work in New York in finance. "With the decrease in activity due to Covid and the explosion of Covid cases in New York, I had however temporarily left New York for Washington where I was at my sister's side."
It was in Washington that in August 2020, Carine received a phone call from Paul Rusesabagina asking her to help her book a flight to Dubai. "As I often book flights for him, he called me and asked me to help him find a flight to Dubai on August 27th and back on September 2nd. I didn't bother to find out what he was going to do there, he travels so often all over the world that I don't pay any attention to it. Moreover, as he is bugged, we avoid, for security reasons, going into too many details on the phone." »
"Joyeux anniversaire petit Loulou"
On August 27th, while in Dubai, Paul Rusesabagina sent the family WhatsApp group "joyeux anniversaire petit Loulou," dedicated to his grandson who had just celebrated his 18th birthday. This will be the last message he will send to the family.
On August 28th at 9 pm sharp, Taciana Rusesabagina waited for her husband's daily phone call in vain. "Every day at 9 pm, wherever he is in the world, they got used to calling each other, she said that he must have had something unexpected and that he could talk again the next day. She sent him a message, which was never received, we wondered if it was connection problems or if something had happened to him. »
The next day and the day after, the same scenario is repeated and the anxiety grows. It was only on August 31 that the family discovered with amazement what had happened. "I was sleeping in Washington at my sister's side and around 3-4am we were woken up during the night by various phone calls. We were sent photos of my father paraded and handcuffed in front of the RIB [Rwandan judicial police]. It was shocking, it was scary, I couldn't believe it, I thought I was going to wake up and everything would be normal and he would be in Texas tending to his garden. We know how Rwanda treats prisoners. Every time he wasn't in front of the media, the worst images of what they would be doing to him off camera came to my mind."
Carine continues sobbing. "I started to feel extremely guilty, I told myself that I shouldn't have helped her with the flight to Dubai. I felt guilty about the plane ticket. I could hear all the horrors that were being said about him, all these accusations that he was a terrorist, my first reaction was to tell myself that they weren't going to let them make up all these lies without acting. »
One way to Belgium
Their first action was to bring together a team that knew their families. "Amber, Kitty, Kevin, Brian were all part of the Paul Rusesabagina Foundation. They have been very supportive from the start. They have a lot of experience, they work day and night tirelessly for my father's release, and all of this on a voluntary basis because it is a cause that is close to their hearts. We then set up a team of international lawyers to study all the legal means that could be put in place. Before we had investigated, we knew that the Rwandan authorities' version did not hold up, my father would never have travelled to Rwanda on his own, knowing that the regime had been trying to kill him for several years. »
Thanks to the dynamism of this team, dozens of associations are made aware of the fate of the Hotel Rwanda Hero, hundreds of articles are published in the international media and the American political world is mobilised. Members of the American Congress even go as far as to publicly demand the immediate release of the man who has a permanent residence in the United States.
Paul Rusesabagina was extrajudicially kidnapped and arrested by @PaulKagame's regime. He must be released in good health at once, and allowed to come back to the U.S. where he is a Permanent Resident. https://t.co/oEiqS2fyWs

— Carolyn B. Maloney (@RepMaloney) December 24, 2020
If the associative, media and political mobilisation in the United States quickly exceeds Carine's hopes, the latter understands less the timid reaction in Belgium. "Before being a permanent resident in the United States, Paul Rusesabagina is above all a Belgian citizen. A Belgian citizen was kidnapped in the Middle East and is now illegally detained in a dictatorship. This is a serious crime that was committed against a Belgian citizen but with the notable exception of certain members of parliament such as Samuel Cogolati, Els Van Hof, or Georges Dallemagne, the Belgian political class does not seem to feel concerned by this case. We don't understand." »
Faced with this timid reaction from Belgium, Carine decides to pack up her bags, put her life on hold and come to settle temporarily in Brussels in the Kraainem family home in order to make the Belgian authorities aware of her father's case and urge them to take appropriate action.
"In Rwanda, people are disappearing because their families are silent"
During the first 11 days of Paul Rusesabagina's detention, the family will have no contact with him and he is still not allowed to meet with the lawyers chosen by the family, as the government has granted him two court-appointed lawyers mandated by the regime. "It was only on 8 September that we were finally able to talk to him for the first time. He spoke like a robot. He told me that he had heard that I was doing interviews in the media and asked me to stop. I didn't recognise him because he had always told us that in Rwanda people were disappearing or were victims of injustice because those around them kept silent out of fear or thinking that this was the best way to protect them. He had told us that if one day something should happen to him, the best way to keep him alive would be to talk about him. And here his message was the opposite of everything he had always advocated and that's what made me say that he was talking under duress. »
The various attempts to silence her will have the opposite effect, and Carine Kanimba multiplies the interviews, in French, English, Kinyarwanda and even Spanish, to raise awareness of her father's case, to the point of quickly finding herself in the regime's sights.
Threats were not long in coming, and several twitter accounts created to spread the regime's propaganda warned her that she would be next. "Most often the threatening messages came from anonymous accounts, but sometimes they also came from ordinary people. I'm just defending my father, and at the same time criticising the government for the way he was kidnapped. In order for my interlocutors to understand the nature of the regime we are talking about, I also talk about the crimes committed by the regime, but I have never understood why someone who has absolutely nothing to do with these crimes would come after me."
In her entourage many people are afraid for her and call on her to be cautious in her interventions: "Many people tell me to be careful, tell me it's dangerous, they say they understand that I can defend my father but advise me not to criticise the regime. It seems difficult to me, because if my father is in this situation, it is because of the disturbing truths he was saying, it is this disturbing truth that Kagame reproaches him for, it seems difficult to explain my father's situation without explaining the abuses of the Kagame regime of which many Rwandans are still victims today. »
Cyber harassment
Alongside these threats, Carine, like anyone else who ventures to criticise the Rwandan regime, is quickly subjected to ongoing online harassment and is accused by RPF supporters of being a "revisionist", "negationist", to have a "genocidal ideology" and even to be a "genocide ideologist" to the point that Tom Ndahiro, a communication advisor to the Rwandan presidency and who has nearly 40,000 followers on Twitter, awarded her "the Golden Machete 2020", a fictitious prize that he gives to those he qualifies as "deniers of the genocide against the Tutsis. »
All of them deserve the #GoldenMachete. This young @ckanimba also deserve something of the sort as an upcoming #NeoInterahamwe. https://t.co/72xWISpqZa

— Tom Ndahiro (@TomNdahiro) October 6, 2020
"When I see these kinds of accusations, I find them so absurd that I laugh at them. Accusing me of denial is like saying that my parents never existed, it's like taking away my own history, and it's a lack of respect for the memory of my family killed during the genocide. It's a pity that they do this, because they trivialise these notions and make them lose all their meaning".
As if indecency had no limits, the online attacks suffered by Carine sometimes take a violent turn, even going so far as to evoke the names of her parents killed during the genocide, as in this tweet from Noël Kambanda, a Rwandan civil servant known for his extremism : "Hey Carine, you can advocate for your legal guardian Paul Rusesabagina who is in custody because of the crimes he committed WITHOUT killing the memory of your parents, Thomas and Fedens. Rusesabagina is NOT your father. Thomas was the name of your father who was killed by Paul's friends. »
Hi Carine, you can advocate for your legal guardian Paul Rusesabagina who is in custody because of the crimes he committed WITHOUT killing the memory of your parents Thomas and Fedens🙏

Rusesabagina is NOT your father. Thomas was the name of your father killed by Paul's friends https://t.co/MoZ2w6Du6s

— Kambanda Noel (@NoelKambanda) September 27, 2020
Or that one of Tom Ndahiro who, reproaching her of having given an interview to a Rwandan opponent, goes so far as to withdraw her filiation "with this relationship with Thomas Nahimana aka 'Padiri', you, Carine Kanimba has been relegated to nothing other than a genocide supporter or a genocide ideologue. Sorry, you are no longer identified with your parents who were victims of the genocide perpetrated against the Tutsis."
"When I read this, I get a feeling of disgust, but it doesn't discourage me. I was aware of the instrumentalisation of genocide, but it had never been used against me. I didn't know how far it could go. They are madmen without any moral sense."
Despite the violence of these attacks and the time and energy that her fight requires, Carine does not seem ready to give up "no matter what they threaten me, no matter what they say about me, I won't stop until my father is back home. Whether it takes another month, three months, a year, or 10 years, I will not give up, because in my life, I have had the best role model of perseverance in the person of my father."
Ruhumuza Mbonyumutwa
Jambonews.net 
---
[1] See our article : « Retour sur l'attentat qui a fait basculer le Rwanda dans l'horreur » https://www.jambonews.net/actualites/20190406-retour-sur-lattentat-qui-a-fait-basculer-le-rwanda-dans-lhorreur/
Commentaires
commentaires