Nearly two weeks after the announcement of the tragic disappearance of the singer Kizito Mihigo, officially following a "suicide" in which no one believes, emotion and indignation remain strong within the Rwandan, Burundian and Congolese community, but also in the four corners of the world where foreign media continue to devote headlines to the apostle of Rwandan reconciliation.
After tributes paid in Kigali, Brussels and Denver on Saturday, February 22, 2020, new unprecedented mobilizations are planned by Rwandan exiles scattered all over the world.
In Belgium, brothers, sisters and friends of the Christian community in Belgium that Kizito Mihigo once frequented are organizing a day of homage that will begin with the projection of the singer's songs.
As a wink of fate, the ceremony will start at 11 a.m. at the Place des Martyrs in Braine-le-Château and will be followed by a mass and a moment of conviviality.
In Switzerland, a ceremony "in memory of Kizito Mihigo" is planned in Sierre in the Valais and will start at 2 pm at the Holy Cross Church located at Avenue de France 4, 3960. The ceremony will be followed by a moment of exchange.
In Canada, the "friends and brothers" of Kizito Mihigo are organizing a mass in memory of the singer in Ottawa-Gatineau at St. Elizabeth Parish located at 1303 Leaside Avenue Ottawa (K1Z7R2) on March 1, 2020 at 3:00 pm.
Also, in Canada, another ceremony is planned in the province of Manitoba in the city of Winnipeg at 200 Kenny Street on March 1, 2020 at 11:00 a.m.
In the United States "the Rwandan community of Buffalo" is organizing a mass "in memory of Kizito Mihigo, a Rwandan gospel singer, songwriter, survivor Tutsi genocide, and peace and reconciliation activist" at St. Anthony of Padua Church located 169 Court Street Buffalo 14202, New York USA, on Saturday, March 7, 2020 at 5 p.m. A second ceremony is also announced in Detroit.
Finally, in Australia, a ceremony is planned by the Rwandan Association of Queensland on March 14, 2020 at 1 pm at St Stephen's Cathedral located at 49 Elizabeth Street, Brisbane City (QLD 4000).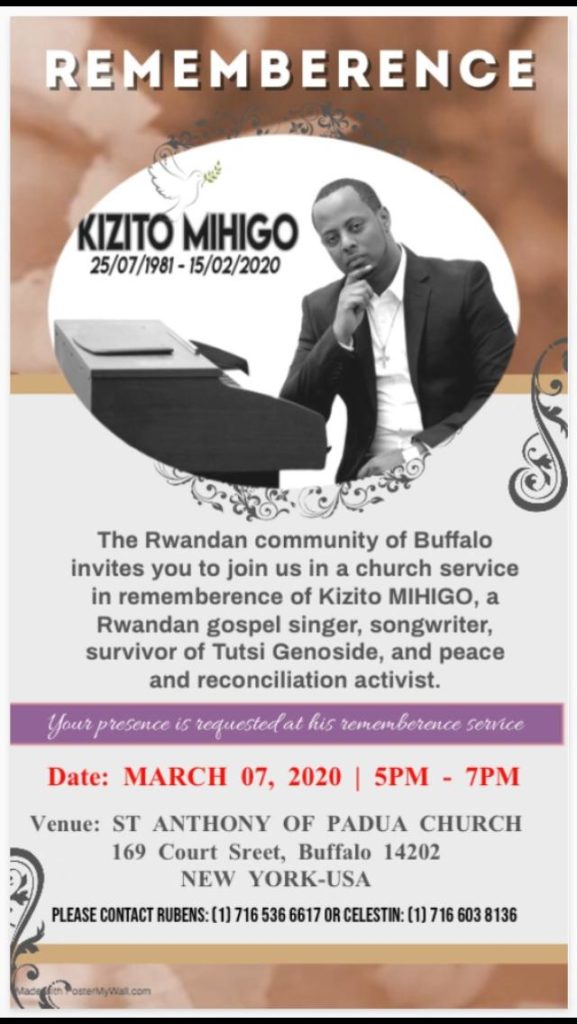 Jambonews
Envie de proposer un article pour publication sur jambonews.net? Plus d'infos ici
Commentaires
commentaires